Whiston and St Helens Hospital get government bail out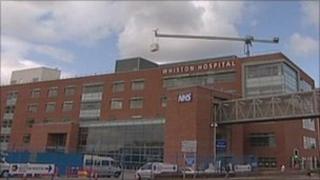 Two Merseyside hospitals built under a private finance initiative (PFI) are to receive a government bail out.
St Helens and Knowsley NHS Trust, which runs Whiston and St Helens hospitals, will get a share of £1.5bn government funding to help struggling NHS trusts.
PFI schemes see private firms pay to build hospitals, leaving the NHS to pay an annual fee over 25 years.
The trust, whose annual repayment fee in 2012 is £42.5m, said it was "pleased" at the news.
'Legacy of debt'
A spokesman said: "We are pleased to learn the government will make money available to support the additional costs of the rebuilding of the trust's new hospital facilities.
"This is a contribution to support the trust to meet the costs of the PFI estate."
The spokesman said the trust was awaiting "clarification and confirmation" of the amount it would receive.
The Department of Health said without the funding, services at the hospitals would be put at risk.
Health Secretary Andrew Lansley said: "We need to balance the accountability of the NHS at local level to live within its means on one hand, with recognising that there is a legacy of debt for some trusts with PFI schemes."
The seven trusts to get a share of the £1.5bn are South London Healthcare, Barking, Havering and Redbridge, Peterborough and Stamford Hospitals, North Cumbria NHS Trust, Dartford and Gravesham NHS Trust and Maidstone and Tunbridge Wells NHS Trust as well St Helens and Knowsley.
Whiston Hospital underwent a £250m rebuild funded via a PFI which was completed in March 2010.
Last year more than 33,000 people signed a petition opposed to the privatisation of Whiston and St Helens hospitals.
A delegation from the Save Whiston and St Helens Hospitals presented the petition to Downing Street in September.