Brian Regan: Brookside star to cocaine addict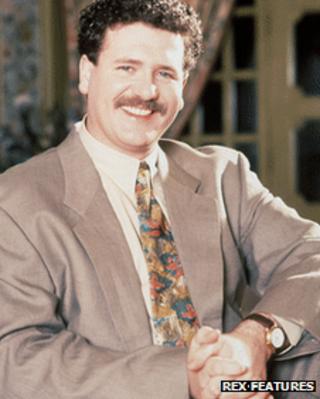 Brian Regan found fame playing loveable rogue Terry Sullivan in the Liverpool soap opera Brookside.
In the show's 1980s heyday, his character's antics were regularly watched by up to seven million viewers a week.
But when Regan left the soap in 1997, his acting career petered out and he plunged into a life of drug dealing and addiction.
Now he is behind bars, serving a five-year jail sentence for lying to police over his role in the murder of Iranian doorman Bahman Faraji and selling drugs.
Regan's jail sentence can now be reported following the conviction of Jason Gabbana, 29, for ordering Faraji's murder.
Details emerged in court of the actor's descent into drugs and supplying members of Liverpool's criminal underworld.
During the trial, Regan told Liverpool Crown Court how he started taking cocaine at weekends at the end of his Brookside career.
It was through his use of cocaine he became involved with Edward Heffey, convicted of murdering Mr Faraji with a sawn-off shotgun in a quiet Liverpool street.
Simon O'Brien, who played Damon Grant in Brookside, said Regan's involvement with drugs was a "slow burn".
Snorting cocaine
"It is a very difficult place when you're acting, particularly on something as high-profile as a soap, because fame and infamy attract each other," he said.
"Actors and gangsters, for some reason, almost get off on each other. It's a really strange mutual attraction because I think the hard man gives the actor a kind of security out in public and the actor gives the gangster kudos.
"The two worlds often get intertwined and when that happens, inevitably drugs become involved. So it was kind of a slow thing from what I remember, it was a slow burn."
Regan was charged with Mr Faraji's murder and was cleared - but he was convicted of giving a false alibi to police about where he was on the night in February 2011.
During the trial, he told Liverpool Crown Court he supplied Heffey with cocaine "about three or four times a day".
When Heffey asked him for a lift on the night of the killing, he said he thought he was taking him to collect a debt so he could pay for the drugs.
In fact, once they arrived in Aigburth in Regan's Ford Escort, Heffey got out, walked round the corner and shot Mr Faraji in the face with a sawn-off shotgun.
Regan told the court he knew nothing about the incident - because he was waiting in the car, snorting a line of cocaine.
He said he then "drove away normally" from the scene and took Heffey home.
Regan was cleared of murder at his trial which ended in January.
'Lose control'
However, when he was first interviewed by police he lied about driving Heffey to the pub, but CCTV evidence put him at the scene and he was found guilty of perverting the course of justice.
Mr O'Brien, 46, who was friends with Regan in their Brookside days, said getting involved in drugs was a tragedy that is "not uncommon" in the entertainment industry.
"Brian is just one example of what happens when you're in the limelight and everything is flying and you lose control," he said.
"You feel you're invincible when you're at the top of the game and you're not.
"Sadly, if anyone wants to know what happens if you get involved in taking cocaine, this is an example of someone who was at the top of the tree and because of cocaine, he ends up behind bars."