Liverpool settle Pier Head cruise terminal row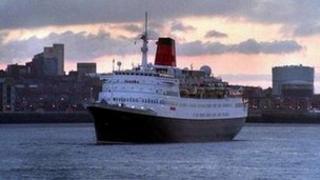 Cruise liners could be based in Liverpool from May after a cash row was settled.
The city had received £9m in government grants to revamp the Pier Head to allow ships to visit.
Now they have agreed to pay back the cash after rival port Southampton claimed it was unfair for Liverpool to receive public money.
Liverpool council leader Joe Anderson said the repayment would allow it to bring cruises to the city.
The council had initially offered to return £5m, used to build the city's liner terminal, to the government but was told it needed to offer more.
Southampton council leader Royston Smith said he would not be content until European finance the city had received is paid back.
Civic authorities in the two cities had been in conflict when Southampton claimed the grant was a subsidy that gave Liverpool an unfair commercial edge in the cruise liner trade.
Public funding of the Pier Head development, including the cruise terminal which opened in 2007, was made on condition it was only used for cruise stop-offs, not "turnarounds" - voyages starting and ending at Liverpool cruise terminal.
At present, cruise ships only dock at Liverpool's terminal after starting from a different port. The new plans would allow it to become a turnaround port.
In return for lifting the restrictions, Liverpool Council offered to pay back £5m of the government grants used to build the terminal - the project received £9m in government funding and a further £8.6m from Europe.
Mr Anderson said the repayment could allow cruises to start and end at the city within three months, as the government had agreed to allow the plans to go ahead once the issue of the grants was dealt with.
He said the council would pay back "whatever the [DfT] panel decides" but did not expect it to be the full amount.
'Willing to compromise'
"If you buy a new car, three years later you don't expect it to have held its price, so we don't think it will be £9m that we pay back," he said.
"But we are willing to compromise and accept the figure that they come up with to get on with it."
A DfT spokeswoman said the government welcomed "Liverpool City Council's willingness to work constructively with the department on this issue".
Mr Smith said: "If Liverpool pay back the money, they will be competing on a purely commercial basis and everyone will be content with that".
But he added that the current offer from Mr Anderson, "does not include the European money and until it does I will not be content".