Nick Clegg says Liverpool money 'not linked to mayor'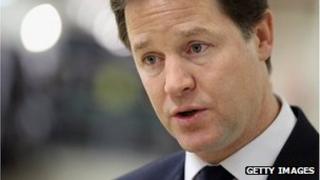 The Deputy Prime Minister has told Liverpool City Council that receiving government funding is not conditional on having an elected mayor.
Labour council leader Joe Anderson has said that agreeing to an elected mayor would guarantee Liverpool £130m in City Deal funding.
In a letter, Mr Clegg said the only condition was that there was "strong and and accountable governance".
"No City Deal is contingent on having an elected mayor", he said.
City Deals were announced by the government in December, offering the councils of England's eight largest cities funds from government to use without Whitehall interference in an effort to stimulate growth and regeneration.
On Thursday, Mr Anderson said the council had agreed a deal with government on its City Deal proposal in return for moving to an elected mayor council system.
He said he "had negotiated some resources and funding and some powers that benefit the city".
However, a spokesperson for the Department for Communities and Local Government said the deal was still being considered.
In his letter, Mr Clegg said that while he was "pleased your council has been so proactive in engaging with [Cities Minister] Greg Clark", receipt of the money did not hang on the city having an elected mayor.
He said that as part of the deal, "government seeks reassurance that each city will have the strong and accountable governance structures in place necessary to bear this increased responsibility".
"The appropriate governance structure may be different for each city, depending on its individual circumstances, and it is therefore important to clarify that no City Deal, including Liverpool's proposal, is contingent on having an elected mayor," he said.