Liverpool may bypass mayor referendum: Joe Anderson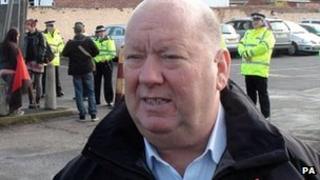 The leader of Liverpool City Council said he wants to hold a vote for an elected mayor without first holding a public referendum.
The city is among 11 in England due to hold a referendum in May on whether or not to elect a city mayor.
Labour council leader Joe Anderson wants to hold an election at that time instead, claiming it would generate £130m of government funds for the city.
The Liberal Democrats said to do so would "deny the public its say".
'Powers and resources'
The existing legislation allows a referendum to be avoided if two thirds of city councillors vote for an elected mayor.
If that happens, Mr Anderson said that he intended to stand for mayor during the elections on 3 May.
He said it would also guarantee £130m in funding for Liverpool, as a result of a government deal.
However, a spokesperson for the Department for Communities and Local Government said this deal - put to the government by Liverpool City Council - was still being considered.
Mr Anderson said "It's about powers and resources being devolved. We've negotiated some resources and funding and some powers that benefit the city.
"This is about taking powers away from central government and bringing it into local government control."
'Hastily called meeting'
Liberal Democrat councillor Richard Kemp said he was "saddened" that Mr Anderson wanted to "deny" the people of Liverpool a say.
He said: "Liberal Democrats believe that moving to an elected mayor is a big decision.
"We believe that such a big decision needs to be taken by the people of Liverpool and not by 90 or fewer councillors at a hastily called meeting."
He said that the city had been promised more money and powers by the government, but rejected Mr Anderson's claims that this was on the basis of having an elected mayor.
Referendums over an elected mayor are due to take place in Birmingham, Bradford, Bristol, Coventry, Leeds, Manchester, Newcastle upon Tyne, Nottingham, Sheffield and Wakefield.