Giant puppet in Liverpool for Titanic anniversary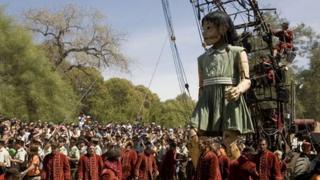 A giant puppet of a girl will lead three days of street theatre through Liverpool to commemorate the sinking of the Titanic.
The 30ft Little Girl Giant is part of a free event to mark the 100th anniversary of the maiden voyage of the liner, registered in Liverpool.
Sea Odyssey takes place on 20-22 April in areas around Anfield and Everton, Stanley Park and the city centre.
The giant will also explore areas near Liverpool and Everton football grounds
The giant puppet was part of the 2006 Sultan's Elephant event which was held in London.
Wendy Simon, Liverpool City Council's cabinet member for culture and tourism, said she hoped the event would "transform people's perceptions" of north Liverpool.
She said: "Tens of thousands of people visit the north end for football matches, but rarely spend any more time there, so this is the perfect opportunity to show off the area and its potential, and as a result, hopefully encourage investment.
"These will be the first steps towards significant regeneration and investment and the event will prove to be a real catalyst for positive change, not just for the area, but for the entire city."
'Most complex event'
The event, which is expected to attract around 250,000 people, will follow a route through Walton Lane, Vauxhall Road and take in the views of the city from the brow in Everton Park.
The performance will be produced by French company Royal de Luxe, which created the giant spider for the 2009 La Machine event in Liverpool.
Liverpool City Council said the event would be the most complex event it had ever staged.
Local residents, businesses and arts groups are being given help to prepare for the event through a scheme designed to help local people work together.
Liverpool is one of five cities holding Titanic-related events in 2012. Events are also taking place in Belfast, Southampton, Cherbourg and Cobh.
The White Star liner RMS Titanic sank when it struck an iceberg on its maiden voyage from Southampton to New York on 15 April 1912. More than 1,500 people lost their lives in the sinking.