Eddie Gilfoyle case: Merseyside Police faces external inquiry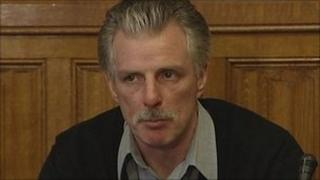 Merseyside Police is to be investigated by a different force over its retention of the diaries of a woman whose husband was convicted of her murder.
Paula Gilfoyle was found hanged in 1992. Her husband Eddie Gilfoyle was convicted of her murder in 1993.
Merseyside Police held Mrs Gilfoyle's diaries, but did not reveal them to her husband's legal team until 2010.
The force has asked HM Inspectorate of Constabulary to find another force to review the case.
'Asked for assistance'
A referral to the Independent Police Complaints Commission (IPCC) by the Merseyside force has been rejected as "it does not constitute a valid referral under the Police Reform Act", the IPCC said.
The watchdog said that a complaint from Mr Gilfoyle would warrant a referral. It would then have to assess the referral, to establish whether an investigated was needed.
It added that it would also investigate if an ongoing inquiry by the Criminal Cases Review Commission identified "potential criminal or misconduct matters".
A Merseyside Police statement said: "Merseyside Police can confirm that the Independent Police Complaints Commission has looked at the voluntary referral made on 13 January 2012.
"The IPCC has subsequently informed the force that at this stage they are content for the force to proceed with a proposed independent external review into how disclosure (in relation to the Paula Gilfoyle murder investigation) has been managed.
"If any misconduct issues are identified as a consequence of the external review the matter will be referred back to the IPCC.
"Merseyside Police has asked Her Majesty's Inspectorate of Constabulary for assistance in finding an outside force to conduct the review."
Lost two appeals
Mrs Gilfoyle was discovered hanged in the garage of the home she shared with her husband in Upton, Wirral, in June 1992.
Gilfoyle, 50, served 18 years in jail. He was released on parole in 2010.
He has always protested his innocence but lost two appeals, in 1995 and 2000.
He was convicted after the prosecution claimed he had made his wife's death look like a suicide by forcing her to write a note.