Hillsborough petition for Kevin Williams inquest hits target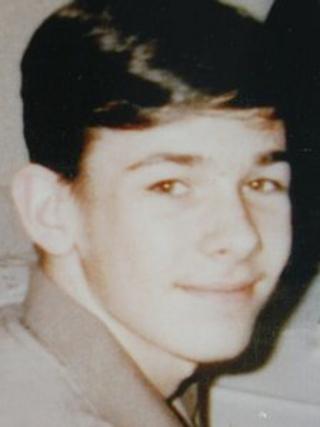 A petition demanding a new inquest into a boy's death at Hillsborough has got 100,000 signatures - meaning the issue could now be debated in Parliament.
Anne Williams contests the accidental death verdict at her son Kevin's original inquest. He was among the 96 who died at or after the 1989 disaster.
She said she would not "pick up his death certificate until we get the course [sic] of death put right".
Her campaign has been supported by Liverpool manager Kenny Dalglish.
Mrs Williams said she was "elated" when the petition tipped over the 100,000 mark, earlier.
Kevin, who was 15 at the time, was one of the Liverpool fans who died after the crush at Sheffield Wednesday's stadium during Liverpool's FA Cup semi-final match against Nottingham Forest.
The original inquest in 1991 returned a verdict of accidental death, ruling that all the victims were dead by 15:15.
His mother, from Liverpool, set up the e-petition urging the government to open a new inquest under section 13 of the Coroner's Act, wanting the accidental death verdict to be overturned.
A new inquest might examine any failings in the emergency response or emergency planning.
Section 13 allows the Attorney General to challenge a coroner's verdict in the High Court.
The Attorney General could do this on grounds that the coroner has refused or neglected to hold an inquest which ought to be held or the discovery of new facts or evidence make it necessary for another hearing.
Mrs Williams claims Kevin was still alive at 16:00 on the day of the disaster and did not die from traumatic asphyxia.
'Denied his rights'
She stated on her petition that she had the evidence required to trigger a new inquest but her request for one to be held had been refused three times by the Attorney General.
A spokesman for the Hillsborough Justice Campaign, which supported the petition, said it had shown the government "not only the strength of feeling in respect of the cover-up of Hillsborough, but also our ability to translate that feeling into action".
"The fight for justice for all Hillsborough victims and survivors should unite all those concerned," he said.
"Kevin Williams could have been saved - a full inquest would reveal the information that was suppressed.
"Kevin was denied his human rights. If he could have lived, how many others might also have [been] saved?"
Liverpool manager Kenny Dalglish, who was in charge of the club at the time of the disaster, had urged his Twitter followers to sign the e-petition.
His request was echoed by QPR's Joey Barton, who grew up on Merseyside, and Manchester City captain Vincent Kompany.
The receipt of more than 100,000 signatories means the petition will be considered by a panel of MPs, who will decide if it should be debated in Parliament.