Merseyside Police refer Gilfoyle case diaries to IPCC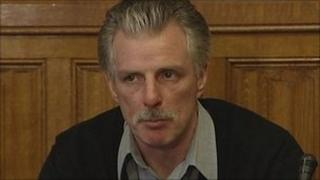 The retention by Merseyside Police of the diaries of a woman whose husband was convicted of her murder is to be examined by the Independent Police Complaints Commission (IPCC).
Eddie Gilfoyle was sentenced to life in 1993 for killing his heavily pregnant wife Paula, who was found hanged.
It has emerged that police held two of Mrs Gilfoyle's diaries which allegedly show she had suicidal thoughts.
Merseyside Police has voluntarily referred the case to the IPCC.
Mrs Gilfoyle was discovered hanged in the garage of the couple's home in Upton, Wirral in June 1992.
Gilfoyle, 50, served 18 years in jail and was released on parole in 2010.
He always protested his innocence but lost two appeals, in 1995 and 2000.
He was convicted after the prosecution claimed he had made his wife's death look like a suicide by forcing her to write a note.
Seizure and retention
It is not known whether the diaries were found during the original investigation or in 1994 when Lancashire Police reviewed the murder investigation.
A Merseyside Police spokeswoman said the force had "endeavoured to be open and transparent" about the disclosure of the diaries.
She said: "This material was provided to Mr Gilfoyle's defence solicitors by the force in August 2010.
"It is important that we seek an independent investigation on this issue to make sure the people of Merseyside can continue to have confidence in how the force handles serious cases.
"In the interest of transparency and in light of comments made by Mr Gilfoyle in the media this week Merseyside Police has voluntarily referred the matter regarding the disclosure of material relating to the conviction of Mr Gilfoyle to the IPCC."
A spokesman for the IPCC said: "This referral relates to the circumstances surrounding the seizure and retention of a box containing the personal effects of Mrs Paula Gilfoyle.
"The IPCC will assess this referral to determine whether there are matters that would warrant an investigation with IPCC involvement."