St Helens man 'stabbed noisy neighbour' to death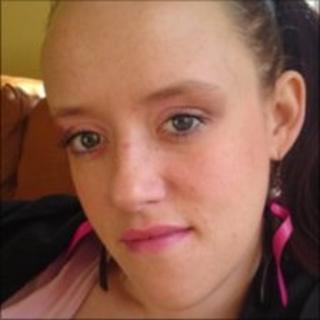 A woman was stabbed to death by a neighbour during a dispute over her anti-social behaviour, a court heard.
Heather Dyer, 22, was stabbed in Chapel Street, St Helens, on 23 July, weeks before she was due to be evicted over parties and loud music.
Paul Lyon, 44, who lived in the flat below the victim, denies murder saying he acted in self defence.
Liverpool Crown Court heard there had been friction between the neighbours for months leading up the incident.
The court heard Mr Lyon confronted Miss Dyer in the early hours when she and seven friends were leaving her flat, before stabbing her three times in the chest and stomach with a sharp fish filleting knife.
When her friends tried to intervene one of them, William Taylor, was also stabbed twice but survived the attack following a period in intensive care at hospital.
Mr Lyon denies the murder of Miss Dyer and the attempted murder of Mr Taylor. He says he was attacked by the group.
'Considerable noise'
The jury will also consider a lesser, alternative charge of wounding with intent to cause grievous bodily harm to Mr Taylor.
Andrew Menary QC prosecuting said Mr Lyon had made frequent complaints to the landlords over Miss Dyer's "considerable noise at all hours of the night".
He said: "On 19 July she was sent a notice to quit the flat by 25 September and Mr Lyon was told that this action had been taken.
"Sadly, the defendant did not wait for that date to arrive. Instead, he took matters into his own hands."
Mr Menary said Mr Lyon called the police to complain about noise at 01.54 BST but the police worker advised Lyon to contact his landlord or the local authority and officers did not attend.
At about 02:30 BST Miss Dyer's friends began to leave her flat to wait in the street for a taxi. Miss Dyer was last to leave the premises.
As she left her home, wearing a nightgown and a leather jacket, witnesses noticed her arguing with Mr Lyon on the doorstep.
Mr Menary said: "The order of what happened next is not altogether clear, but the defendant suddenly made a lunge at Heather and William Taylor tried to intervene.
"Both were stabbed by the defendant, who was by then armed with the knife.
"The other lads in Miss Dyer's group also then tried to intervene and the defendant was restrained."
Covered in blood
Evidence from other neighbours described Mr Lyon as "aggressive and angry", Mr Menary said.
Various 999 calls were made and police arrived to a scene of "chaos", the court heard.
Police found Mr Lyon covered in blood and he had suffered a cut eye when he was restrained, the prosecutor added.
The defendant told police officers at the scene: "I stabbed her, I didn't mean to kill her. I stabbed them both, I'm sorry."
Miss Dyer was declared dead at Whiston Hospital a short time later.
Mr Taylor was taken to hospital and treated for two stab wounds to his stomach, which caused damage to his liver and colon.
Mr Lyon told detectives Miss Dyer and her friends had abused him as they left her flat and he picked up the knife, from a ledge by his front door, because he saw the gang approaching and blaming him for her forthcoming eviction.
During police interviews he said he was knocked to the ground and "swung" or "waved" the knife to "get people away".
Mr Menary said that account was "quite simply not true".
The trial continues.