Liverpool cruise decision delay 'restraining trade'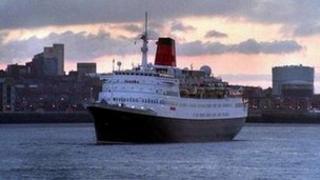 The leader of Liverpool City Council has said the government is "restraining trade" by not allowing the city's cruise terminal to become a turnaround port.
Council leader Joe Anderson said he was "angry" a decision which was expected in 2011 had taken so long.
The council has asked the Department for Transport for permission to allow cruises to start and end in the city.
The publicly funded terminal can currently only accept cruise stop-offs.
Mr Anderson said making it a turnaround port would be a boost to the city's economy.
"They're listening to a lobby from Southampton and they are fearful of making the decision," he said.
"This is now a restraint of trade issue - I believe, quite fairly and quite strongly, the government are restraining Liverpool from operating a facility that brings in jobs and money to the local economy."
'Unfair competition'
A Department for Transport spokesman said the "careful consideration of consultees' responses has taken a little longer than anticipated and therefore we now expect to provide an update on this issue by the end of the month".
The government consultation on the proposal ended in September with campaigners from Southampton handing a petition to 10 Downing Street claiming public funding of Liverpool's terminal was an unfair advantage.
Chief Executive of Hampshire Chamber of Commerce Captain Jimmy Chestnutt said: "The issue here is of one of unfair competition and unfair competition is a European wide regulation and understanding so the use of public money to subsidise one port against the operations of another will raise issues among their competition.
"The government can't just come to some arbitrary decision and ignore international law on this."
Public funding of Liverpool's Pier Head development, including the cruise terminal, which opened in 2007, was made under the condition it was only used for cruise stop-offs, not turnarounds.
In return for lifting the restrictions, Liverpool council has said it would pay back £5m of the government grants used to build the terminal - the project received £9m in government funding and £8.6m from Europe.
In November, a letter from the European Commission to a Southampton MEP suggested Liverpool would have to repay part of the European grant money in the event of a change to the terminal's usage.