Suspect in footballer Tom Adeyemi 'abuse' case bailed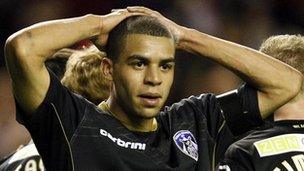 A man arrested over an incident of alleged racist abuse at Anfield towards Oldham Athletic defender Tom Adeyemi has been bailed for further inquiries.
An investigation was launched after Friday night's Liverpool v Oldham match in the FA Cup third round.
The 20-year-old man, from Aintree, Merseyside, was arrested on suspicion of a racially aggravated public order offence on Saturday.
Liverpool Football Club said it was "deeply sorry" for what had happened.
Adeyemi, 20, who is loan to League One Oldham from Premier League Norwich, appeared close to tears during the game, which Liverpool won 5-1.
He appeared to be comforted by team-mates and Liverpool players Dirk Kuyt and Steven Gerrard following the alleged abuse.
There was reported to have been a discussion between police and the game's fourth official after the incident.
Gordon Taylor, chief executive of the Professional Footballers Association, said: "Tom has given a full witness statement to the Merseyside police regarding the incident and will continue to assist the police fully in their enquiries."
Later on Sunday, Liverpool said the club had a "very clearly stated public stance on discrimination and intolerance", with dedicated staff that worked in the area.
In a statement published on its official website, the club said: "Whatever the outcome of what is now a police investigation, all of us are deeply sorry for what happened on Friday night and our players and our Club pass on our sincere regrets to Tom Adeyemi for the upset and distress he suffered as a result of the matter at hand.
"Our supporters are renowned throughout the world for their outstanding commitment, passion and fairness. They are drawn from nationalities across the globe with widely diverse backgrounds and heritages.
"The actions of any one individual do not represent our fans. Their stance on these issues is just as resolute as the Club's."
The statement went on say the club had given Merseyside police "every possible assistance" and would continue to support their investigation to ensure the incident was dealt with properly.
"We will continue to take the strongest possible action(s) against unacceptable behaviour during our matches," it added.
The investigation takes place as Liverpool striker Luis Suarez is serving an eight-match ban for racially abusing Manchester United defender Patrice Evra.
Related Internet Links
The BBC is not responsible for the content of external sites.