Libraries in Liverpool to shut and jobs to go in restructure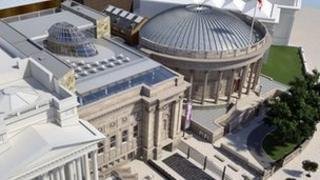 Liverpool City Council has announced plans to restructure the city's libraries with the loss of 76 jobs.
The city's mobile library service will end, three libraries will close and opening hours of others will be cut.
The proposals, to deliver savings of £2.2m by 2012/13, will be considered by the council's cabinet on Friday.
Wendy Simon, cabinet member for the Labour-controlled council, said she was "hopeful" community organisations could be found to run closed libraries.
The reduced opening hours mean 12 of the city's libraries will move to four days a week opening, mainly from 10:00 to 18:00.
Three libraries will be co-located with other council services at Garston, Parklands and Walton.
The city's central library, which is currently undergoing a £50m rebuild, will be the only library open seven days a week and into the evening.
'Little notice'
The council's public consultation on the future of the city's libraries had 4,000 individual responses.
Ms Simon said: "We have taken a great deal of time and care to consider their views before putting forward proposals to try and make sure they are acceptable and take account of what people have told us.
"The aim is to maintain a comprehensive service while at the same time meeting an extremely challenging savings target due to reductions in funding from central government.
"We are proposing that the majority of libraries are kept open and that we continue to open them at times which are most convenient for residents.
"We will make sure that everyone who wants to receive library items will still be able to do so through our home delivery service."
Liverpool Liberal Democrat party leader Paula Keaveney said: "I'm not sure the council has looked at every option.
"If you have a job you are effectively being told you will only go to a library on a Saturday.
"Equality of treatment should make it possible for all citizens to have access to libraries.
"This report was published last night and the decision is being made on Friday morning.
"In terms of public access, it's little notice."