Home Office give Merseyside Police £2.5m for riot costs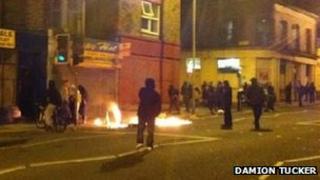 Merseyside Police has been granted the majority of the money it requested from the Home Office to cover the expense it incurred during August's riots.
Liverpool saw trouble on Tuesday, 9 August in what Merseyside's Assistant Chief Constable Andy Ward called a "copycat" of London's disturbances.
Merseyside Police Authority has been granted £2.5m of the £2.8m it originally applied for.
The money includes a fund to cover all claims made under the Riot Damages Act.
It has paid such claims regardless of whether the claimant had insurance.
Chairman of the police authority Bill Weightman said he was "delighted" with the grant.
"Merseyside Police Authority has been as open and accessible as possible to allow for all those members of the community and local businesses who have sustained losses in the recent disturbances to claim compensation, whether they were insured or not," he said.
"I am delighted that the Home Office has responded in this way to our special grant application, particularly in view of the current financial climate and cuts to funding from the government."
The authority had requested £2,010,490 to cover the costs of policing and £828,227 to cover damages claims.
The Home Office has granted money to cover all the damages claims and £1,708,916 to cover policing.