Call to protect Ince Blundell Roman sculptures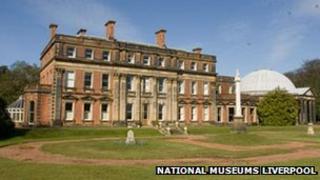 A group of art enthusiasts have said they are concerned about a collection of Roman sculptures being moved.
The marbles, collected in the 18th Century, are at Grade II listed Ince Blundell Hall in Crosby, Merseyside.
The Augustinian Canonesses, who run the site, want replicas to replace the sculptures as they are worried about their condition and security.
But the Society of Dilettanti said no attempt had been made to find a way of keeping them in their original setting.
Charles Sebag-Montefiore, joint Secretary of the society which is involved in the conservation of Greek and Roman art, said: "Before any final step is taken - such as a signed contract with an auction house to disperse them - we think there ought to be a period where interested parties can talk to see if other solutions can be found that actually preserve the heritage instead of destroying it."
English Heritage has backed an application made to Sefton Council to remove the sculptures from the hall, which is now a nursing home, for restoration.
A council spokesman said: "An application has been received for listed building consent for the removal, repair and replacement of fixtures and fittings.
"A planning decision is due to be made by 8 February, having considered advice and representations from a number of sources."
The sculptures are in the care of National Museums Liverpool and considered by English Heritage to be an "outstandingly important collection".
A spokesperson for English Heritage said: "English Heritage's current advice to Sefton Council is that it would be in the best interests of the marbles if they were removed for conservation and replaced by high quality replicas.
"However, as it would be harmful to the collection as a whole if these items were sold and dispersed, we have further advised the council that a condition should be put on any consent that the antiquities should not be removed for one year so that there is an opportunity for funds to be raised to allow public acquisition.
"The combination of circumstances at Ince Blundell are exceptional, and were consent to be granted for removal of the antiquities this would not establish a precedent for other owners of listed buildings."