Missing Margaret Holt: Plea to Lanzarote holidaymakers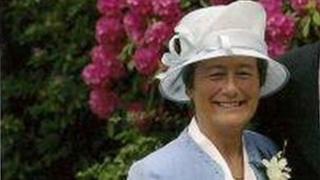 Rescuers searching for a pensioner from Merseyside missing in Lanzarote for more than a week have appealed to holidaymakers to help.
Margaret Holt, 65, from Wirral, was seen leaving her hotel in the resort of Costa Teguise on 23 December.
She was spotted later in the day in the Orzola region of the island but has not been seen since.
The official search was stood down after 72 hours but residents along with Mrs Holt's family are still searching.
Sandy Bartholomew, a tour guide on the Canary Island who has taken charge of the search, said the authorities had agreed to restart the hunt on Tuesday with a hikers' association and a team of hang gliders.
But she urged any holidaymakers returning to the UK during the last week who saw Mrs Holt - who is feared to have fallen - or who have any other information, to help.
Family 'in despair'
She said: "We need to appeal to people who were on holiday at the time who might have seen or spoken to Margaret to contact us urgently.
"We need to know if anyone might have seen her on their travels - any information could really help us in the search.
"There is every chance she could still be alive.
"Her son and daughter-in-law are in despair."
Mrs Holt, who was described as extremely fit, was last seen wearing a light pink vest, khaki shorts and walking sandals and carrying a drawstring bag.
Her family contacted the Spanish Civil Guard to raise the alarm after she failed to make contact with them over Christmas.
Her passport and belongings were found in her hotel room, although it is believed she took her mobile phone - which is not working - with her.
A guidebook indicated she planned to walk in the north of the island.
A Foreign Office spokesman said officials were in contact with the Spanish authorities and were providing assistance to the family.