Hang gliders join search for walker Margaret Holt in Lanzarote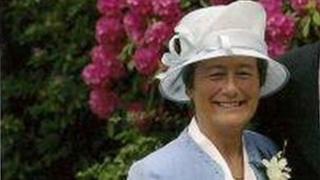 A team of hang gliders will join a dog team, rescue helicopters and volunteers in the search for a British pensioner who went missing in the Canary Islands.
Margaret Holt, 65, from Wirral, Merseyside, was last seen in Lanzarote on 23 December.
Sandy Bartholomew, a tour guide on the island said the "entire community" was hoping for her safe return.
She said the Lanzarote Hang Gliders Association would join the search later if wind speeds were good.
They were unable to do so on Thursday because of weather conditions.
Ms Bartholomew said: "It is very distressing but we are not giving up hope. We are all positive we will find her."
Mrs Holt's family contacted the Spanish Civil Guard after she failed to make contact over Christmas.
'Very fit woman'
They are now in Lanzarote helping the search operation, which involves a dog team, rescue helicopters and volunteers.
Mrs Holt's daughter-in-law, Clare Riley, appealed on Facebook for information about her whereabouts saying that she was a "very fit woman" who thought "nothing of walking 20 miles per day".
She said the family believed Mrs Holt, whose mobile phone is not working, had fallen while walking.
Mrs Holt was seen leaving her hotel in the resort of Costa Teguise on the morning of 23 December wearing a light pink vest, khaki shorts, walking sandals and a drawstring bag.
She was spotted later in the afternoon in the northerly Orzola region of the island but has not been seen since.
The Foreign Office has said the Spanish authorities are carrying out a search co-ordinated by the Civil Guard and local emergency services.
A spokesperson said staff from the British Consulate were in contact with the authorities and the family.