Liverpool and Everton fans unite for Football Quarter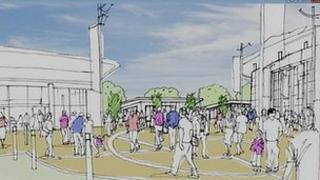 Liverpool and Everton fans have teamed up to help regenerate deprived areas in north Liverpool.
The rivals want to attract investors to transform areas around Anfield and Goodison Park.
Supporter groups Spirit of Shankly and Keeping Everton In Our City launched the plans for the Football Quarter at the Museum of Liverpool earlier.
Walton Labour MP Steve Rotheram and Bootle Labour MP Joe Benton are backing the project.
Called All Together Now, the new group says the scheme will celebrate the history of both clubs and bring educational benefits and job opportunities to communities surrounding the clubs.
Proposals include new homes near both grounds and joint facilities for the clubs including a centre of excellence educational facility, a football museum and an event and fan zone.
Paul Gardner of the Spirit of Shankly said: "It is an exciting and unique concept to unite both clubs and use the football club as an anchor to regenerate the surrounding communities.
"The Football Quarter will transform the lives of thousands of fans living in some of the most deprived parts of the UK but within two Premiership clubs.
"I am hopeful we can do this even in this economic climate."
Colin Fitzpatrick of Keeping Everton In Our City said: "I believe football clubs should be an asset of their communities and Everton injects more than £10m into the local economy throughout the season.
"The Football Quarter is designed to compliment and build on these achievements for the benefit of fans, their communities, and the club's prosperity."
Mr Rotherham and Mr Benton are calling on people to help "make the vision a reality".
Mr Benton said: "The economic and social benefits will directly translate into more jobs, vastly improved standards in health and education as well as create a dramatic and positive physical change to the area and its facilities."
Mr Rotherham said: "We have a collective duty to ensure that the areas in the vicinity of both Anfield and Goodison Park capitalise on the regeneration potential and reflect the world-renowned status of both clubs."