Shafilea Ahmed parents plead not guilty to her murder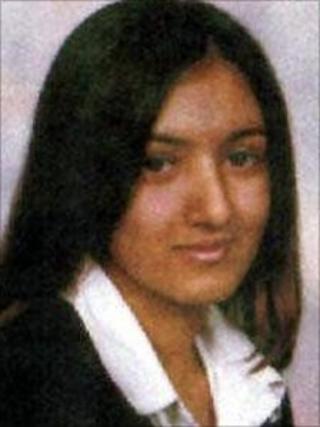 The parents of Cheshire schoolgirl Shafilea Ahmed, the suspected victim of a so-called honour killing, have pleaded not guilty to her murder.
Iftikhar Ahmed, 52 and Farzana Ahmed, 49, of Liverpool Road, Warrington, appeared at Manchester Crown Court. They were charged with the murder of Shafilea, 17, in September.
Her decomposed remains were discovered in Cumbria in February 2004.
Shafilea disappeared from the family home in September 2003.
Two post-mortem examinations failed to determine how she died but a verdict of unlawful killing was recorded at her inquest in 2008.
Pathologists said she was most likely strangled or suffocated and South Cumbria coroner Ian Smith said he believed she was probably murdered.
Discovered by workmen
Mr and Mrs Ahmed were initially arrested on suspicion of kidnapping their daughter in December 2003.
They were released without charge when the Crown Prosecution Service (CPS) ruled there was insufficient evidence against them.
They were arrested on suspicion of her murder in 2010 and released on police bail.
The teenager went missing on 11 September 2003 and was reported missing by a teacher a week later.
Her body was discovered by workmen and she was identified by her jewellery and dental records