Rise in Merseyside shootings 'as gangs protect drug farms'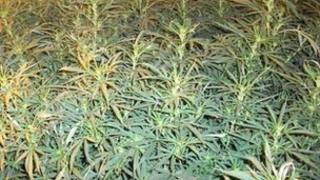 Merseyside has seen its first significant rise in gun crime in four years, figures have shown.
Senior officers believe the rise can be linked to a new trend of gang members using the weapons to protect cannabis farms from rival groups.
And that has also led to shootings across a wider area of Merseyside.
There have been 91 "firearms discharges" to date this year, compared with 70 last year. That compares with 128 in 2007, 97 in 2008 and 98 in 2009.
Six people were killed and 25 injured in 2011, compared with five killed and 26 injured in 2010.
Det Supt Ritchie Davies, of Merseyside Police's Matrix unit, said: "We are disappointed that it has gone up again.
"Our ultimate goal would be to have zero firearm discharges - but we have to be realistic."
He said the force was seeing a "different type of criminality", where guns were used in relation to cannabis farms.
Mr Davies said rival groups were aware of each other's cannabis farms and there had been a series of burglaries - with members trying to disrupt each other's farms.
"They are resorting to the use of firearms to protect their investment," he said.
"Over the last 12 months, we have seen a particular increase in areas of the city we haven't associated with gun crime." He cited Sefton as an example.
'Risk versus profit'
Mr Davies said there were two distinctive types of farms - those in large industrial units and smaller ones, with perhaps as few as 20 plants.
It was the smaller factories which appeared to be related to gun crime, he said.
Mr Davies said he believed those taking part in organised crime were moving into growing cannabis because the consequences if caught were far lower than those for class A drugs.
"They look at the risks versus profits," he said.
The Matrix unit was set up in 2005 to tackle gun and gang crime. It was the first of its kind outside the capital.
In 2007, it launched its gun crime strategy, with the aim of reducing gun-related incidents by 25% - a target, the force points out, it has achieved.
It now records every firearms discharge and investigates it - regardless of whether someone was killed, injured or shots were fired in the street.
Specialist officers in the 400-strong unit work with neighbourhood officers, community support officers, councillors and members of the community to gain information.
Play commissioned
But it is also playing a far longer game - working to change the culture of those in the community.
The team has commissioned a play which has been incorporated into the school curriculum on Merseyside. It has been shown to 30,000 school children.
Officers also go into schools and work with members of the community, particularly women, to try to help them change attitudes.
Mr Davies said: "Our aim is to get it as low as possible and keep it there."