Willaston war memorial theft plaque seller jailed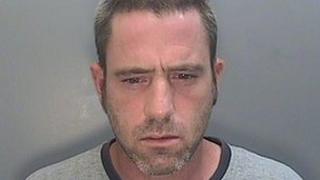 A man who tried to sell a war memorial plaque stolen from a Cheshire church has been jailed for nine weeks.
A copper panel listing men who died in World Wars I and II was taken from Christ Church, Willaston, on 30 July.
Michael Coyle, 41, of Mellock Lane, Little Neston, was held in August after trying to sell the plaque to a firm of scrap metal traders in Ellesmere Port.
He pleaded guilty before Chester magistrates last week to handling stolen goods.
When Coyle tried to sell the plaque, the scrap metal merchants became suspicious and refused to buy it.
'Heritage crime'
The memorial, which has not been recovered, will cost £7,000 to replace.
There has been a spate of thefts of war memorials across the UK as the price of metal has risen.
Cheshire Police Assistant Chief Constable Ruth Purdie said: "It is imperative that we continue to raise the public awareness of the emerging problem of heritage crime − that is crimes such as this when a historical or religious landmark is targeted by criminals who steal or vandalise buildings or places of worship, or landmarks of significant local heritage and culture."
"The soaring value of metal during the economic downturn has meant that many places of worship have become targets for metal thieves out to make quick money with no acknowledgement or respect for the consequences on the community."