'Banksy' painting found in Liverpool's Rumford Street car park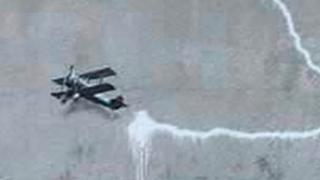 A painting believed to be by the street artist Banksy has appeared in Liverpool city centre.
The artwork, which depicts a biplane leaving a trail of smoke, is on the wall of a car park in Rumford Street.
Banksy works are difficult to authenticate but a photograph of the black and white biplane artwork has been posted on the artist's website.
Liverpool has only one other known work by Banksy, a giant rat, on the wall of a derelict pub in Berry Street.
That work was part of the 2004 Liverpool Biennial.
In February 2010 the building the rat work is painted on, the former Whitehouse pub, was sold at auction for £114,000.