Stanley Dock scheme approved by Liverpool City Council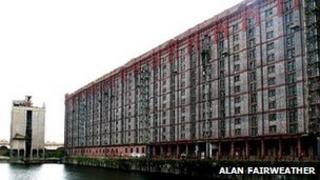 A £50m plan to transform a Grade II-listed former tobacco warehouse on Stanley Dock has been approved by Liverpool City Council.
Officers recommended the approval of Dublin-based Harcourt Developments' plan for a hotel, apartments, bars and restaurants at the site.
The number of apartments planned has been reduced from 634 to 335.
Liverpool Vision said the scheme was expected to create 1,780 jobs and safeguard a further 2,280 posts.
Last month the area was awarded £25m of the government's regional growth fund.
The planning application is the first phase of the regeneration of the Stanley Dock site, with other plans expected to be announced next year.
Under revised plans, office space has also been increased from 3,387 sq m (10,112 sq ft) to 4,102 sq m (14,418 sq ft), with the company saying the changes to the scheme will make it more viable in the current economic climate.
Opened in 1901, the 14-storey warehouse is one of the world's largest brick buildings and consists of 27 million bricks, 30,000 panes of glass and 8,000 tonnes of steel.
It has been derelict since 1980.