Woman prepared to face jail over census refusal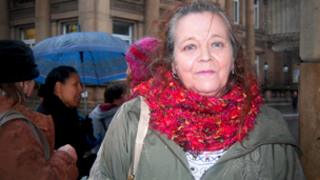 A grandmother from Wirral says she is prepared to go to jail rather than pay a fine for failing to return her 2011 Census form.
Sarah Ledsom, 56, from Bromborough, refused to complete the form as a matter of conscience as she disagreed with the ethics of Lockheed Martin, the company that processed the data.
The conglomerate is one of the world's biggest arms producers.
Mrs Ledsom will be tried at Liverpool Crown Court in January.
The retired nurse manager, who is being prosecuted by the Office for National Statistics (ONS), is backed by NoConcensus, a Liverpool-based group which supports census refusers.
'Absolute mess'
If found guilty she could be fined up to £1,000 and could face jail if she refused to pay.
She said: "I've always completed the census but because it was Lockheed Martin there was no way.
"The F16 warplanes are used on innocent civilians all over the world. It is an absolute mess to give a census to an arms dealer.
"Its not a matter of winning. They can find me guilty, I'll refuse to pay the fines and I'll go to prison."
Personal data
A spokesman for Office for National Statistics said: "All data is the property of Office for National Statistics.
"The only people who have access to the full census dataset in the operational data centre were ONS staff.
No staff from either Lockheed Martin, the US parent, or Lockheed Martin UK have access to any personal census data."
A census is held every 10 years to find out more about the people in the UK.
The England and Wales census was on 27 March.
Northern Ireland and Scotland conducted their census on the same day.
Everyone was legally obliged to complete a census questionnaire, to help the government decide how best to plan and deliver public services.