Port Sunlight workers in first national Unilever strike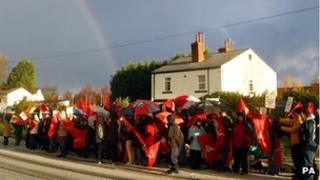 Set in a conservation area with its many Grade II listed buildings, Port Sunlight is the model Victorian village
From 1888 to 1914, it grew to include an art gallery, allotments, a cottage hospital, concert hall, swimming pool and church. And, initially at least, no pub.
It was the grand plan of Lord Leverhulme and was founded on the idea of giving workers at his soap factory a happy life.
But now the present day employees of Lever Brothers, part of Unilever, are taking part in the company's first national strike.
Unions leaders have said Lord Leverhulme would be "spinning in his grave" at what is happening at his company now.
The action is over changes to pensions and a move away from a final salary scheme, which the strikers claim, goes against the values the company was founded on.
'Sound economic investment'
Lever Brothers was the archetypal Victorian paternalistic company.
The workers employed by Lord Leverhulme enjoyed rights and standards of living that were the envy of others.
"He remembered what his background was, an ordinary working class northern lad," local historian Ken Pye said.
"He knew what poverty was and he didn't want his workers to be exploited because he'd grown up with tales of the industrial revolution and he'd seen it at first hand.
"Lord Leverhulme knew he'd get better work from happier staff and that he'd get happier staff if they were secure in a good home and the wages were fair.
"He provided all of this from the profits of the factory.
"It was certainly a sound economic investment from his point of view. It was a real welfare state in microcosm, and in private hands.
"They were nonetheless Victorian and paternalistic, very patrician. 'Touch your forelock and I will look after you'.
"However the quality of life and the terms and conditions that the workers had was second to none.
"If you had a job at Port Sunlight you did everything to hang on to it."
About 1,600 people are now employed at Port Sunlight across two sites, one with a focus on research, the other on production. The plant produces Dove shampoo, Lynx Deodorant, Persil soap powder and other products.
In many ways the site at Port Sunlight is still a traditional family firm, it is not uncommon for people to have worked there for 40 years.
"When I joined 20 years ago it was like moving from academia into another branch of academia," Bill Hodgson, Unite union representative at the plant, said.
"It had a kind of family atmosphere about it and there was loyalty to the company.
"It was one of the reasons for our success, but that is changing.
He said Lord Leverhulme helped with getting the state pension introduced.
"There's lots of thing in the history that doesn't chime with the company now.
"It has been said a number of times that he'd be spinning in his grave. It's completely different now."
Changing world
While the buildings at Port Sunlight still stand, the world in which Unilever now operates has changed out of all recognition to that Lord Leverhulme knew.
A spokesman for Unilever said: "We fully understand the strength of feeling prompted by our decision to close our final salary plan.
"Our pensions arrangements in the UK have to reflect today's realities if they are going to be sustainable into the future and this means making tough choices, including an acceptance that final salary pensions are no longer a viable option for the company."
Mr Pye believes the pension dispute is a symptom of the move to a global economy.
He said: "The pressures are different now, in his day, someone like Lever would have had absolute total control.
"He was the monarch of this empire.
"Unilever a multinational conglomerate has to respond to international crises and trends.
"There's a difference between what Lever Brothers is now, part of something huge, and what it was when William Lever started it all off.
"We've lost localism everywhere and we are losing control over our own destinies as a result."