Liverpool reacts to elected mayor referendum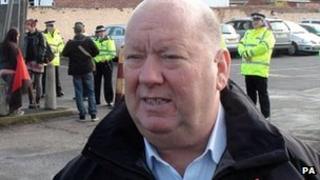 Campaigners in Liverpool have welcomed news that the city will be allowed to choose if it wants an elected mayor.
Liverpool is one of 11 cities which will hold a referendum on the issue in May 2012, following the introduction of the Localism Act in November.
Liam Fogarty, from A Mayor For Liverpool, said the people of the city "want what London has got".
However, Liverpool Chamber of Commerce's Jack Stopforth said a mayor may not have "the power to deliver".
The passing of the Localism Act into law means that England's largest cities, including Manchester and Leeds, will hold referendums on the issue of elected mayors.
Mr Fogarty said: "The cities in England that have an elected mayor have done much better, by and large, than those that have stuck with the old council leader system.
"There are hundreds of successful cities in Europe and across the world who have directly elected city leaders."
"They have a proper mandate from the voters.
"We think it would be great if Liverpool went down that route so that we, the people of Liverpool, choose who speaks for Liverpool.
"We feel if we give someone in Liverpool the clout to improve things, the city can really take off."
Mr Stopforth said that he had concerns about elected mayors, particularly if they were "a single-issue politician".
"The beauty of the system of the moment is that the leader is supported by a cabinet of capable people," he said.
"If he suddenly became a campaigner for a particular issue, there are others there to rein him in.
"The worry is that if you get a powerful single-issue politician, too many things get neglected."
Liverpool council leader Joe Anderson said the job of an elected mayor would need to be given "more powers than I currently have, otherwise I won't support it".
"What I've always argued is that I don't need a badge to call me mayor," he said.
"If the powers remain the same, then why do it?
"If the powers are different and give us the opportunity to benefit the city of Liverpool, then [the council] would be interested."