Professor Martin Perl joins University of Liverpool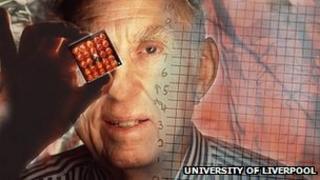 Nobel laureate Martin Perl has accepted a visiting professorship at the University of Liverpool.
Professor Perl, who was awarded the Nobel Prize in Physics in 1995 for the discovery of the tau particle, will join the Department of Physics.
He will work with Dr Jonathan Coleman on an experiment to detect dark energy.
Dr Coleman said they would try to find out if dark energy was "an energy field, fluid or some other phenomenon we have never thought about."
Prof Perl has spent his career at the University of Michigan and the Stanford Linear Accelerator Center and he serves on the board of advisors of Scientists and Engineers for America, an organisation that promotes "wise science and technology policy" in US government.
The American's work on the discovery of the tau lepton with fellow physicist Frederick Reines earned the pair their 1995 Nobel Prize.
Dr Coleman said he was looking forward to working with the 84-year-old.
He said their work would build on that done by 2011 Nobel laureates Saul Perlmutter, Brian Schmidt and Adam Riess.
"The 2011 Nobel Prize in Physics was awarded for the unexpected discovery that the visible universe is expanding in time," he said.
"This acceleration phenomenon is called dark energy - a term to describe something we know something is driving the expansion.
"We aim to find out the nature of dark energy.
"Is it an energy field, is it a fluid, or some other phenomenon we have never thought about?"