Family flats open at Liverpool's Alder Hey Hospital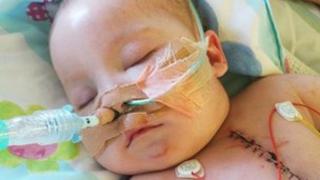 Families whose children are being treated at Liverpool's Alder Hey hospital can now stay in 15 new apartments which have opened there.
The flats, at Ronald McDonald House, are for families who need to stay near the hospital for more than six months.
Actor Ricky Tomlinson made a £1m donation last year towards the cost of building the accommodation.
The flats include a bedroom, kitchen, lounge facilities and a bathroom and can accommodate up to four people.
Ronald McDonald House Charities is an independent charity set up to provide free accommodation at hospitals.
It said this was the first unit of its kind in Europe providing family apartments for long-term stays.
Years in hospital
Jan Thomas, house director, said: "We are thrilled to be able to accommodate our long stay families in our 15 new apartments, particularly at this time of year.
"These are families from all over the UK who have put their lives on hold to be close to the hospital where their child is being treated.
"All of these children have life-limiting conditions and will be in hospital not for days or weeks but months and possibly years."
Some families set to move in have been at Alder Hey for more than a year and are expecting to spend Christmas at the hospital.
Parents Debbie Taylor and Alan Hinton, from Shropshire, are using the accommodation while their 18-month-old son Callum is treated for a complex heart condition.
Callum remains in the hospital's intensive care unit after undergoing open heart surgery.
Mrs Taylor said: "Our son was born with a complex heart condition and eight weeks ago he had a major operation but that didn't work, and a few days ago he had another 10-hour operation and he is still on intensive care at the moment."
The couple, who have three other children, are planning to use their flat so they can all be together over Christmas.
They added: "The new apartments are fantastic and provide a home away from home.
"They give us complete privacy and somewhere to spend quality time with our other children who can now stay overnight."