Occupy Liverpool protesters pledge to stay for winter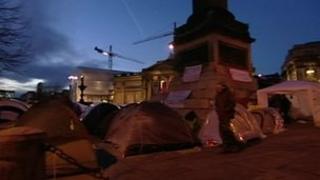 Protesters in a tented village in Liverpool have said they plan to stay throughout the winter.
The protesters from Occupy Liverpool, numbering about 40, began camping on St George's Plateau in the city centre on Saturday.
They said they were supporting the protests that began on Wall Street and spread to London and other cities.
Protester "Stone Cold" Murphy said: "I'm here for the duration, I'm here until we get change."
The camp is at the Lime Street end of William Brown Street, part of Liverpool's World Heritage site's Cultural Quarter.
Protesters have also been camping outside London's St Paul's Cathedral since 15 October.
Mr Murphy said: "We're in solidarity with the Occupy movement around the world.
"We're in a good location here and there's plenty of support.
"I'm prepared if the weather gets bad. It's not going to be easy but Christmas and New Year here will be great."
A spokeswoman for Merseyside Police said: "We are aware of a small number of tents being set up on Commutation Row and are currently in the process of trying to speak to the organisers to establish what their intentions are.
"Merseyside Police remains committed to facilitating lawful, peaceful protest."