Liverpool councillors approve £30m cuts package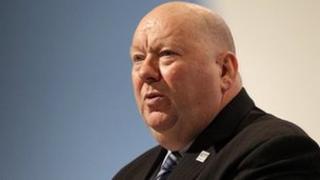 Senior councillors in Liverpool have approved £30m worth of savings to be made in the next financial year.
The savings, part of a £50m package of cuts which need to be made from next year's budget, were approved at a meeting at the town hall earlier.
Liverpool City Council said it could not rule out raising council tax next year, despite the government offering money to authorities who freeze it.
Deputy council leader Paul Brant accused ministers of a "one-year fix".
"What the government are doing is offering a smoke and mirrors," he said.
"They are offering a one-year fix so if we do take that it means there will be higher council tax in the following years."
Last month, Liverpool City Council unveiled £90m worth of proposed cuts, from which the £50m savings for next year need to be chosen.
The recommended savings will now be discussed at a full council meeting on 12 December.
In addition to the £50m of savings which need to be found for 2012-13, the council estimates it will need to find a further £18.5m in 2013-14 and £33.3m in 2014-15.
That means total savings of almost £102m over the next three years, on top of the £91m that had to be found in 2011-12.
Council Leader Joe Anderson said: "We are taking these decisions now because in conversations with partners they have told us that they are better able to deal with decisions when we give them as much notice as possible."
He added: "Rather than salami slicing services each year, we are taking a longer term view which enables us to look ahead and envisage where we will be in 2015."