Liverpool Daily Post to go weekly and cut jobs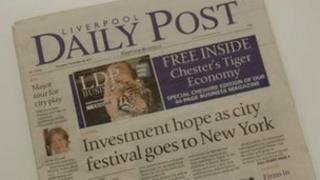 Liverpool's oldest daily newspaper is to stop publication after 156 years, changing to a weekly issue under a new name from January, with the loss of six journalists' jobs.
The replacement weekly paper will be issued every Thursday with a focus on business, sport, arts and politics.
The Liverpool Daily Post was first published in the city on 11 June, 1855, at the price of a penny per copy.
The National Union of Journalists (NUJ) said the move was "a real gamble".
The Post's sister paper The Liverpool Echo will continue to be published daily.
In the latest Audit Bureau of Circulation figures, the Liverpool Daily Post had a circulation of 8,217 copies.
The title will retain an online presence.
'Great journalism brands'
The paper is part of the Trinity Mirror group, which publishes about 160 regional newspapers as well as national titles the Daily Mirror and Sunday Mirror.
The company also announced that free weekly titles, the Bootle Times, Merseymart and Star, will be merged into two new community papers which will be inserted into the Liverpool Echo's Tuesday edition.
Liverpool Daily Post editor Mark Thomas said the replacement weekly publication for the paper had a working title of "The Liverpool Post".
He said: ''We are lucky to be custodians of one of the great brands in journalism and we've been serving our city for 156 years.
"This change sets us up to serve it for the next 156 - in print and online and through whichever channels readers seek to receive it."
'Grim announcements'
Mr Thomas added: "There is clear evidence that a bumper Post once a week, full of high-quality news, views and analysis, will be better for readers and a more appealing vehicle for advertisers."
Trinity Mirror stopped printing the Liverpool Daily Post and Echo in the city in 2008 and moved the printing operation to Oldham. The editorial department remained in the city's Old Hall Street offices.
In November 2009 Trinity Mirror moved the production of its Midlands daily paper, the Birmingham Post, to a weekly edition.
Chris Morley, NUJ Northern and Midlands Organiser, said: "This is the latest in a string of grim redundancy announcements by Trinity Mirror. Turning the Liverpool Daily Post into a weekly is a real gamble by the company with a title that has a prestigious history of publishing.
"As a union, we remain to be convinced that this format is likely to be a successful way forward in Britain's big cities. Trinity Mirror has already carried out a similar operation with the Birmingham Post some two years ago but the jury is still out on the impact on circulation."