Liverpool John Lennon Airport Servisair staff on strike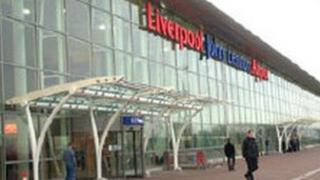 Ground staff at Liverpool John Lennon Airport have staged a two-hour strike in a row over jobs.
The Servisair workers walked out from 05:00 GMT until 07:00 GMT and are due to hold another two-hour stoppage at 19:15 GMT.
The GMB said the action was in protest at plans for 47 compulsory redundancies at Servisair, which deals with airlines including Ryanair and FlyBe.
The company has promised there will be no disruption to flights.
A single two-hour strike is also planned for Sunday at 16:00 GMT followed by two more strikes on 28 November.
The GMB union said the pattern of strike action will be repeated in the weeks from 30 November, and there will be a continuous ban on overtime.
GMB official Eddie Parker said: "Servisair initially put 75 jobs at risk from redundancy.
"Given the level of unemployment on Merseyside and given that Servisair is making a profit, compulsory redundancies are not acceptable."
A spokesman for the airport said it expected passengers whose airlines use Servisair to be able to fly without disruption during the dispute.
A number of Servisair staff have continued to work despite the plans for industrial action, to ensure all travelling passengers are not affected, he added.