National Grid offers compensation for Wirral gas outage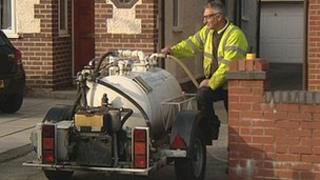 Energy provider National Grid has begun compensating people affected by a gas outage in Wirral.
Homes in Leasowe and Moreton were left without gas after a burst water main damaged pipes and flooded the local supply network on 11 November.
It took eight days for engineers from the company to reconnect all of the properties affected.
The National Grid's Ian Palfreyman said he wanted to "thank people for their incredible patience".
In total, more than 300,000 litres of water entered the gas pipes in the area, causing disruption to more than 2,000 homes.
Mr Palfreyman, the National Grid's head of North West Network, said reconnecting the properties had been "a time consuming process".
"In many places, water had travelled through the main, into the supply pipes to individual properties, through the meter and into internal pipes," he said.
"All this water had to be removed before we could safely turn the gas back on and re-ignite boilers."
'Really valuable job'
He said that it was "times like these that we realise how much we take things like our gas supply for granted".
In accordance with its own guidelines, National Grid will compensate households that were without gas for more than 24 hours.
The guidelines state that households are eligible to claim £30 for every full 24 hours without gas and businesses can claim £50 per 24 hours, which Mr Palfreyman said customers could expect to receive within 28 days.
He said that National Grid were "very grateful for the staff and volunteers at Leasowe Leisure Centre and Leasowe Community Centre".
"We set up our incident command centre at the leisure centre and used the community centre as a base for handing out electric heaters and cookers and for giving residents information about our progress with the incident," he said.
"The volunteers operating the kitchen at the community centre did a really valuable job in feeding our army of engineers and I am especially thankful to them."
National Grid engineers are expected to remain in the area until the end of the week, filling in the excavations which were dug to allow the water to be pumped out of the mains.