Liverpool John Lennon Airport Servisair staff to strike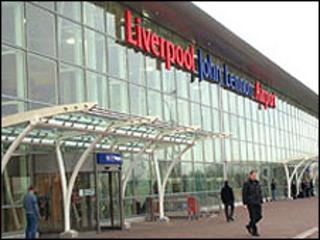 Ground staff at Liverpool John Lennon Airport are to stage a series of two-hour strikes.
Members of one of the UK's largest unions, the GMB, who work at Servisair, voted to begin their walk-outs at 05:00 GMT on Wednesday.
The GMB said the action was in protest at plans for 47 compulsory redundancies at the firm, which provides ground support to a number of major airlines.
A second day of strikes will be staged on Friday, the union said.
'Available for talks'
A single two-hour strike is also planned for Sunday at 16:00 GMT followed by a two more strikes on 28 November.
The union said it planned to repeat the pattern indefinitely and it also announced a continuous ban on overtime.
Affected airlines will include Ryanair, KLM, FlyBe and Hungarian airline WizzAir.
GMB spokesman Eddie Parker said: "GMB members voted by 85% in favour of action up to and including strike action and by 95% in favour of action short of a strike.
"Servisair initially put 75 jobs at risk from redundancy. Given the level of unemployment on Merseyside and given that Servisair is making a profit, compulsory redundancies are not acceptable.
"GMB members consider the real reasons for the job losses are bigger profits, the removal of full time employment to be replaced by part-time working and the introduction of flexible working.
"We have told Servisair that members will undertake upskilling at no cost to the company to save jobs if they remove the compulsory proposal.
"Servisair has rejected this proposal and issued redundancy notices to GMB members. GMB remains available for talks to avoid this dispute and avoid disrupting the travelling public."
'Business as usual'
Liverpool John Lennon Airport spokesman Robin Tudor insisted the strikes would not affect passengers and that he had received an assurance from Servisair that staff would be brought in from elsewhere to cover for striking staff.
Mr Tudor said: "It will be business as usual.
"We've been told by Servisair that they are putting contingency plans in place and will bring in additional staff.
"Half of our passengers travel with Easyjet, who are not served by Servisair, so those passengers would never have been affected anyway."