Liverpool area tourism figures increase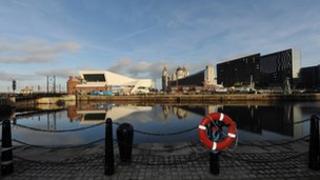 The number of tourists visiting Merseyside increased by almost 5% in 2010, research commissioned by The Mersey Partnership (TMP) reveals.
There were about 54.5 million trips to the area with an 8% increase in overnight visitors compared with 2009.
This contrasts with a national drop of 5% for overnight visitors.
TMP chief executive Lorraine Rogers said the increase "reflects the appeal of the destination to growing business and leisure audiences."
The research also said there was a 5% growth in spending by visitors and a 4% increase in day visitors in comparison with 2009.
The Liverpool area visitor economy strategy is aiming to generate £4.2bn annually and support 55,000 jobs by 2020.
Ms Rogers said: "In the current economic climate few sectors are showing growth.
"Liverpool City Region's visitor economy is not only showing strong growth but is significantly exceeding national performance levels.
"Other research shows growth in the City Region's visitor economy in 2010 was ranked third ahead of other sectors including transport, financial services and manufacturing."