Everton Blue Union group protest march to Goodison Park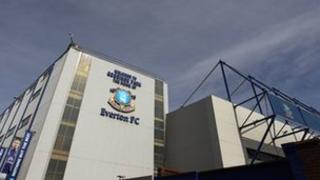 A protest march by an Everton supporters group has been held before the club's home game against Wolverhampton Wanderers.
The Blue Union are concerned about Everton's financial position and are calling for a change in ownership.
Everton have asked for fans of the club to concentrate on supporting the team.
Before the game, Merseyside Police said about 250 people had taken part in the march.
A spokesman for Blue Union said: "Interest in the club from potential buyers, whether genuine or otherwise, appears to have heightened significantly since the initial protest and associated press coverage.
"As it was back in September, the message to Bill Kenwright and his fellow directors will remain, 'Let Go If You Love The Club'."
Several fan-based websites have published what they claimed were emails apparently from director of communications Ian Ross criticising chief executive Robert Elstone.
In a blog on the club website Everton FC chief executive Robert Elstone said: "The challenges faced by us and most of our rivals are there for all to see and we don't shy away from them.
"What's true is we are stronger and we will make the biggest difference when we are together.
"At the end of a great week for the club, when we have been saluted both on and off the pitch, Wolves come to visit and we get back to what really matters for Evertonians."