Community spirit in Moreton and Leasowe after gas cut-off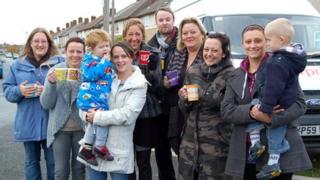 A gas cut in Wirral, which began a week ago, has led to residents "bonding together", they say.
More than 130 homes and businesses are still without gas, seven days after pipes were damaged by a burst water main.
Mother of three, Karen Moulsdale, 37, from Leasowe, said residents had been "fantastic" in helping each other out.
"The local community has really come together," she said.
"We've been keeping in contact through Facebook and have been cooking and making soup and teas for the older residents."
About 2,300 homes and businesses, in Moreton and Leasowe, were cut off after pipes were damaged when the main burst, on 11 November.
Although many properties have had their supplies restored, residents in Reeds Avenue East are still cut-off.
National Grid has apologised for the disruption and said 80 engineers were working to rectify the problems.
Ms Moulsdale said: "We're trying to rally round and help each other out.
"On Friday and Saturday we started giving out hot meals to the older residents. On Sunday, we helped out with a roast dinner at the community centre for the elderly and disabled."
Ms Moulsdale has also been visiting residents without computers to keep them up to date.
She has been in regular contact with Leasowe and Moreton Councillor Ian Lewis who has been sharing information from National Grid with residents on his Facebook page.
Mr Lewis said: "We have always had a very strong community spirit in this area and when you are hit by a crisis like this you start to think about people who live next door and perhaps can't cook for themselves and don't have heating.
"The community centre and Millennium centre on the estate have both really pulled together and started to provide meals, teas and coffees and also delivered portable heaters to people."
The estate in Leasowe is made up of social housing, and owner occupied properties, many running pre-paid electricity meters.
The cost of running electric heaters is proving a problem for some families who are borrowing money to pay for electricity cards.
Mr Lewis added: "National Grid has a system where you are entitled to £30 a day compensation but the difficulty is how do you pay in advance for that electricity if you haven't got the money until it comes through in a months time?
"There needs to be a system in place where people can be given pre-paid electricity cards because expecting people to pay for their bills upfront in this situation is not good enough."