Alder Hey Children's Hospital document 'panics' staff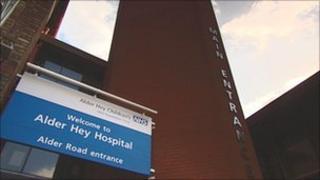 A document that was accidentally made viewable to staff at Liverpool's Alder Hey Children's Hospital has caused "rock bottom morale" and "panic".
The message, saved to a public computer folder, is believed to have proposed 20 possible redundancies among nursing and administration staff.
Unison said that the document has had a "devastating" effect on staff morale.
A hospital spokesperson said it was saved in error, but was only a proposal and required proper consultation.
A nurse from the West Derby hospital who contacted the BBC said: "Morale is just rock bottom, people are so upset. Now everyone is panicking because this has come out of nowhere.
"It's just so awful to think none of us are safe, people who have worked here for decades, and they're sending this sort of thing around behind our backs.
"The document has been removed since then, but lots of us have printed it off so they can't keep it hidden."
'Nurses in tears'
Paul Summers, the North West regional organiser for Unison, confirmed the union had seen a copy of the document.
He said it outlined a proposal for 20 possible redundancies at the hospital, "effective from December", as well as plans to downgrade pay scales among staff.
"You can understand the effect this has on morale, it's devastating. There are nurses quite literally in tears.
"The use of dates in a proposal is bizarre, and has made staff think it's a done deal, but I want to reassure them that is not the case."
He said he had met the hospital's human resources department earlier, and reminded them a full consultation was necessary before any job losses were decided on.
He added that Unison intended to oppose any job cuts at the hospital, and was already starting a local campaign to try to safeguard staff.
The hospital disputed the term "redundancies", and said that where possible, it would seek to redeploy staff to different departments.
It treats over 200,000 children and young people each year.