Gas problem leaves Wirral homes cut-off for a week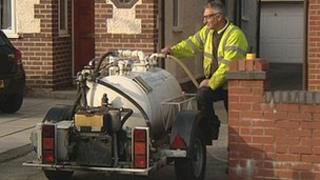 More than 130 homes and businesses in Wirral are still without gas, seven days after pipes were damaged by a burst water main.
About 2,300 homes and businesses in Moreton and Leasowe were cut off after the incident on 11 November.
National Grid said it has restored supplies to a further 143 properties, but some still have no supply.
The utility firm has sent inspectors to each address and has issued electric cookers and fan heaters.
More than 200,000 litres of water have been pumped from the gas pipes during the repairs process.
Compensation payments
Some homes also suffered an electrical blackout on Sunday, after the local network became overwhelmed by a surge in demand.
The utility said that it would make compensation payments of £30 to households and £50 to businesses for every 24 hours that they have been without gas.
A National Grid spokesman said: "We apologise for the time it is taking and we would like to thank people for their continuing patience and goodwill. We are doing everything we can to get people back on gas as soon as possible.
"We have more than 80 engineers focusing on reconnecting the remaining properties.
"The biggest challenges we are addressing are removing water from service pipes - the pipes that connect individual properties to the main in the street - and in some cases from internal pipework as this takes additional time."