Brian Regan murder trial: Ex-Brookside actor denies putting on act to police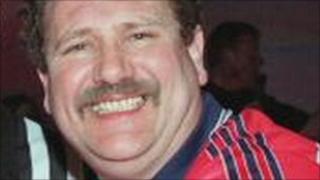 A former Brookside actor who is accused of helping to organise an underworld shooting in Liverpool has denied putting on an act to the police.
Brian Regan, 54, is accused of being the driver for a gunman who killed Bahman Faraji, 44, outside the Belgrave Arms in Aigburth last February.
Liverpool Crown Court heard Mr Regan portrayed himself to police as a "hopeless drug addict".
Mr Regan, who played Terry Sullivan in the Channel 4 soap, denies murder.
He is on trial alongside Edward Heffey, 40, Lee Dodson, 42 and Simon Smart, 32, who are all from Liverpool and all deny the same charge.
'Canny and cunning'
Speaking in court on Tuesday, Mr Regan said he was snorting cocaine as Mr Faraji was shot dead at close range.
On his second day of giving evidence, the actor was cross-examined by Stephen Riordan QC, defending the alleged gunman Mr Heffey.
Mr Riordan asked him about police interviews during which Mr Regan tried to stop officers finding out that he was selling drugs.
The barrister said: "You portray yourself as a hopeless drug addict who comes across quite bumbling, don't you?"
Mr Regan replied: "That's the way I was."
Mr Riordan went on: "But in fact you were quite canny and cunning.
"You knew the police were on to you so you took steps to ensure you would not be caught dealing."
Mr Regan said it was Mr Dodson who was running the drug-dealing operation.
He told the jury he had taken Mr Heffey to the area of the murder, but as far as he knew it was so that he could collect money to pay for cocaine.
Mr Regan admitted being a regular cocaine user and said he funded his habit by dealing and delivering drugs on behalf of Mr Dodson.
When the murder took place he was on bail for drugs offences.
Mr Regan joined Brookside from episode six in 1982 and his character was at the centre of some of the soap's most dramatic storylines. He left the show in 1997.
He has said he was in Brookside when he began taking cocaine but claimed he never used the drug while he was working.
He said when it became difficult to fund his cocaine habit he moved into supplying, mixing and bagging the drugs at home, taking orders and looking after the "tick list" - the accounts of the dealing operation.
The trial continues.