Widnes playing fields dug up in hunt for German bomber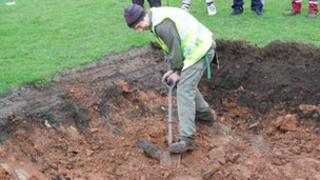 A group of wartime enthusiasts are excavating a Cheshire playing field to search for part of the wreckage of a German World War II bomber.
The Heinkel HE111 was shot down in March 1941 by an RAF Hurricane while returning from a raid over Liverpool.
The crew bailed out and the plane crashed into what is now the King George V playing field in Widnes.
The Wartime Preservation Group hopes to find two of the aircraft's engines which were buried in the ground.
Hit barrage balloon
Lee Woods from the group said: "It's a big field and there are a couple of potential sites where it could be.
"We've dug two pits up to now but so far there's nothing showing from the aircraft.
"We know there are two of the aircraft's engines buried here.
"They were buried at the time by the Air Ministry and RAF recovery team. That's what we're hoping to hit."
The plane had carried out a bombing raid over Liverpool and Birkenhead when it was intercepted and shot at by a Hurricane night fighter piloted by Sgt Robin McNair.
It was heading in the direction of Widnes town centre when its wing hit a barrage balloon, causing the plane to crash in the field.