Work to restore gas to Wirral homes continues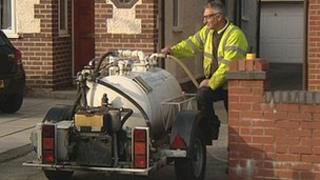 About 1,500 homes in Wirral remain without gas after pipes were flooded by a burst water main.
National Grid said it was still not clear when supplies would be back on in the 53 affected roads.
The gas was cut off when a main at the junction of Danger Lane and Hoylake Road burst on Friday, filling the adjacent gas pipes with water.
Some homes also suffered an electrical blackout on Sunday, after a surge in demand overwhelmed the local network.
National Grid said more than 80 engineers worked across Saturday and Sunday in an attempt to restore gas supplies to as many homes as possible.
About 200,000 litres of water were pumped from the pipes at the weekend.
On Monday, 605 houses had gas restored, with a total of 1,505 homes still waiting to be reconnected.
A National Grid spokeswoman said engineers had been unable to gain access to 55 properties.
She said that the company "hope to make good progress today", but admitted they could not yet give a date for the restoration of gas supplies.
Residents have been advised to ask to see the identity cards of engineers calling at their homes.
Power surge
National Grid has also been working with the local authority, local housing associations and other bodies to identify vulnerable customers and provide alternative electrical cooking and heating facilities.
These are available for vulnerable customers from Leasowe Community Centre in Twickenham Drive.
However, the over-usage of electrical items led to a power surge on Sunday and left some homes without any power.
The spokeswoman said the loss had been "unfortunate" but was quickly rectified.
"It's always a bit of an issue when we have situations like this," she said.
"We've been asking people to be sensible about their electricity use.
"If you're freezing cold, by all means switch on the heater and we understand people need to cook meals, but if you could turn something else off that you are not using, that will stop any problems."