Work to restore gas to Wirral homes continues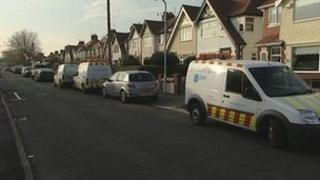 Work is continuing to restore gas supplies to more than 1,700 homes in Wirral.
National Grid said its engineers were making progress but it was still not clear when the gas would be back on in the 53 affected roads.
Supplies were cut on Friday when a water main burst at the junction of Danger lane and Hoylake Road, flooding gas pipes.
Engineers are at the scene trying to pump water out of the gas network.
National Grid said more than 80 engineers worked late into Saturday night in an attempt to restore supplies to as many homes as possible.
On Sunday, a total of 1,742 homes were waiting for gas supplies to be restored and engineers were still unable to gain access to 161 homes.
Residents have been advised to ask to see the identity cards of engineers calling at their homes.
A National Grid spokesman said it had been working with the local authority, local housing associations and other bodies to identify vulnerable customers and provide alternative electrical cooking and heating facilities.
These are available for vulnerable customers from Leasowe Community Centre in Twickenham Drive.