Councils 'in parallel universe over care home fees'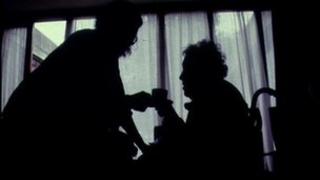 Councils are "living in a parallel universe" by cutting the rates they pay for care home places but expecting the same service, industry leaders say.
The English Community Care Association, which represents charities and care firms, said the "appalling" behaviour was pushing some to the brink.
It comes as research by analysts Laing and Buisson showed the fees being paid had fallen by 4% in the past two years.
But councils said they were facing huge budget cuts themselves.
About half of the 390,000 places in care homes in England are paid for by local government with the rest split between the NHS and private payers.
'Appalling'
The Laing and Buisson research, which was commissioned by Bupa, the second biggest care home provider in the country, estimated current rates - £464 per person per week on average - would need to rise by between 5% and 8% a year for the next three years to provide a good quality service.
But the report warned if anything fees would continue to fall in the coming years as local government is facing its own cuts from central government.
Over the next four years funding will be reduced by over a quarter.
The situation has even prompted some care home providers to take legal action against local authorities. Only last week the decision by Sefton Council in Merseyside to freeze its fees for two years was ruled unlawful by the High Court.
Martin Green, of the ECCA, said more cases like the Sefton one were likely.
"Councils are behaving appallingly. They are cutting fees and expecting the same level of service without any negotiation.
"It's like walking into Marks and Spencer and going to the till with £1,000 of goods and saying you will have them but only paying £500. They are living in a parallel universe."
He said many providers were being pushed to the brink and predicted if the situation continued some would go under or leave the sector altogether.
One provider - Southern Cross - has already collapsed. Its demise was mainly put down to the firm's business model, although cuts in local authority fees were also said to be a factor.
Bupa managing director Mark Ellerby said: "Efficiencies have already been made in every area of care and still meeting basic standards within current council fee levels is extremely challenging."
Michelle Mitchell, of Age UK, said the charity had heard of people having to pay top-up fees or being sent to homes miles away because of the low fees council were paying.
"Councils need to be realistic when setting their maximum rate for local residential care and not just decide on what they're willing to pay."
But Councillor David Rogers, of the Local Government Association, said: "There isn't enough money in the system and it needs urgent reform.
"Councils don't want care homes to go out of business, they need places where older residents can be well cared for. Many go out of their way to support good care homes.
"However, the long-term triple pressures of insufficient funding, growing demand and escalating costs, coupled with recent central budget cuts, means the current system is under acute financial strain and councils cannot continue to do all they have done in the past."