James Murdoch sorry for The Sun's Hillsborough coverage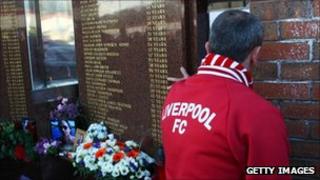 News International's executive chairman James Murdoch has apologised for The Sun newspaper's "wrong coverage" of the Hillsborough disaster in 1989.
Mr Murdoch was responding to a question by Liverpool Walton MP Steve Rotherham during evidence to the Commons Culture, Media and Sport Committee.
He said: "I would like to add my full apology for the wrong coverage of that affair."
Ninety six Liverpool supporters died in a crush at Hillsborough in April 1989.
'Very sorry'
Four days after the disaster, The Sun printed allegations about Liverpool supporters' behaviour under the headline 'The Truth' including claims, later disproved, that fans had urinated on police officers and stolen from the pockets of dead supporters.
Mr Rotherham asked Mr Murdoch if News International had believed it could do "whatever they wanted without reproach" after The Sun's printing of "outrageous lies" about the Hillsborough disaster in 1989.
Mr Murdoch said: "It was wrong to do so. It was 22 years ago and I was far away and a much younger person and had no involvement or proximity to it.
"But I have since looked at it and I am aware of the concerns and the hurt it caused and it is something we are very sorry for, and I am as well.
"I would like to add my voice to the successive editors of The Sun and chief executives of News International who since that incident have apologised."
When asked by Mr Rotherham if the paper would be closed if evidence proved its reporters were involved in phone hacking, Mr Murdoch said: "I think it is important to not prejudge the outcome of any investigation.
"Nor is it appropriate to prejudge any actions the company might take.
"I don't think we can rule - and I shouldn't rule - any corporate reaction to wrongdoing out. That will be a decision taken at the time given whatever is out there."