John Lennon's tooth bought by Canadian dentist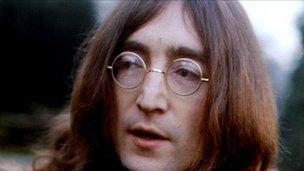 A Canadian dentist has bought one of John Lennon's teeth for £19,500 at an auction in Stockport.
Alberta-based Michael Zuk bid by phone to secure the molar given by the former Beatle to his house keeper Dot Jarlett, who worked for him in the 1960s.
The tooth was from a collection of rock memorabilia owned by Alan McGee, former boss of Oasis's label Creation Records.
Other items being sold included oil paintings from John Squire of the Stone Roses and gifts from politicians.
Mr Zuk, who has written a book on celebrities' teeth, said: "Once I heard it was up for sale I had to have it."
He plans to display the tooth in his surgery as well as take it on a tour of other dental surgeries and dental schools.
"Some people will think its gross, others will be fascinated by it," he added.
Further items from McGee's collection going under the hammer included the original signed management contract for Jesus & Mary Chain, one of the bands McGee managed, the £1,000 loan agreement which was used to set up Creation and personal gifts and letters of thanks from Labour party politicians Tony Blair, Gordon Brown, Peter Mandelson and the late Mo Mowlam.
Mr McGee has said he is selling the collection because he is sick of the music industry.
Karen Fairweather from Omega Auctions, said of Lennon's tooth: "It's rather gruesome, yellowy, browny with a cavity.
"John Lennon came back from the dentist and gave it to his housekeeper and said to dispose of it 'or better still give it to your daughter as a souvenir'."
Related Internet Links
The BBC is not responsible for the content of external sites.