Childwall medieval church to appeal planning rejection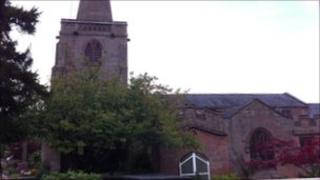 Liverpool's only medieval church will appeal against a decision refusing planning permission for an extension.
Plans for a new building on a graveyard at All Saints Church in Childwall were rejected by Liverpool City Council in September.
The council ruled that the extension was out of keeping with the church's position and the surrounding conservation area.
The church council said it would appeal what it called a "flawed judgement".
A spokesperson for All Saints Church Council said: "We remain convinced that our original proposal remains a sensitive yet visionary way to enable our beautiful church to be a place for future generations to worship and enjoy."
"The Church Council for All Saints, Childwall, has unanimously agreed to appeal the planning decision of September 6th to refuse permission for their proposed extension.
"The church council believe they have sufficient grounds to appeal what was, in the opinion of their professional advisors, a flawed judgement."
A Liverpool City Council spokesman said: "As this decision is subject to an appeal, it would not be appropriate to comment at this stage."