Liverpool band Bird cover local act for BBC Introducing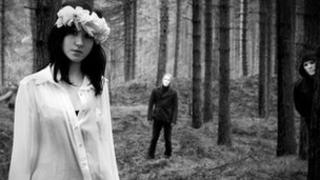 Musicians will cover tracks by their favourite Liverpool act for a new BBC Introducing Merseyside feature.
The feature, on the weekly BBC Radio Merseyside programme, is a new addition to the weekly radio programme and will see session guests select a Liverpool artist to cover in their own style.
The idea was inspired by hearing local singer Kate Smith's version of Wishing for the It's Liverpool project, originally recorded by The Flock of Seagulls.
Folk band Bird will cover a surprise song by a Liverpool artist on BBC Introducing Merseyside on Sunday, 6 November.
Bird first appeared on the BBC Introducing show in April and have been played on BBC 6 Music.
The five piece describe themselves as "atmospheric folk", combing haunting and poetic lyrics with melodic and eerie sweeping guitar riffs.
Singer Adele Emmas said: "It has been a busy couple of weeks with lots of promotional stuff and London gigs to promote the EP which we released on Halloween along with sessions for BBC 6 Music and BBC Introducing Merseyside."
The band, which formed just over a year ago, also includes Mick Dolan, Keith Thompson, Steve Parratt and Alexis Samata.
Signed to London independent label Jack To Phono records the band's first EP release features the eerie, medieval sounding tracks 'Phantoms', 'Hey Hey Moonshine', 'Tides' and 'The Witch-Hunter.
They are touring throughout November with local shows at the closing party for Liverpool Music Week on 11 November at the Contemporary Urban Centre, and a headline show at Eric's on 3 December.
Tune in to BBC Introducing Merseyside Sundays 20:00-22:00 GMT on BBC Radio Merseyside.