Merseyside wheelie bin fires 'rise before Bonfire Night'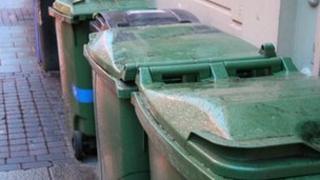 Fires in wheelie bins in Merseyside have increased in the run up to Bonfire Night, Merseyside Fire and Rescue Service has said.
The bins have become a target for anti-social behaviour, with 115 wheelie bin fires in Merseyside in October.
This compares to 77 fires in bins in September and 70 in August.
Residents have been warned to lock the bins away if possible and avoid leaving them on the street as 5 November approaches.
Guy Keen, Merseyside Fire & Rescue Service group manager, said: "We know from our incidents that wheelie bins left out on the streets offer tempting targets for certain individuals intent on causing fires at this time of year, tragically these fires have caused deaths on Merseyside due to rapid fire spread effecting adjacent property.
"We would urge residents not to leave their wheelie bins out; they should be stored away from doors or windows to prevent fire spreading to properties.
"Bins should be left out only on collection day and returned as soon as possible after emptying."