Liverpool plans 20mph speed limit zones increase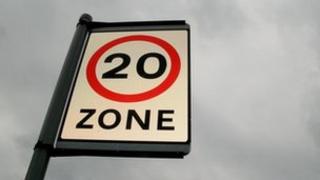 Plans for a 20mph speed limit on the majority of Liverpool roads are to be considered by the city council.
The proposals, which would cover 70% of Liverpool roads, are aimed at significantly reducing the number of accidents.
Currently 31% of the city's roads have a 20mph limit. Over a four-year period this would be extended to a further 317 miles (587km) of roads.
The council's cabinet will be asked to approve the plans on 4 November.
Greater survival chance
The proposals are supported by Merseyside Police and Liverpool Primary Care Trust and are expected to provide a saving of £5.2m a year in costs associated with accidents.
A council spokesman said research showed a pedestrian would have a 90% chance of surviving if they are hit by a car travelling at 20mph, in comparison with a 50% chance of survival if hit by a car travelling at 30 mph.
Malcolm Kennedy, Liverpool City Council cabinet member for regeneration and transport, said: "This is a really important project, which we believe will bring massive benefits to our city.
"It will make our roads safer, potentially saving hundreds of lives, and it could present a saving to society of over £5million a year."
Roads which would be exempt from becoming 20mph would include roads with existing speed limits of 40mph or more, most A and B roads, and major routes which are not primarily residential.
If the plans are approved, a public consultation will be held towards the end of 2011.